Pott's puffy tumor and orbital abscess - Unusual cause
Palavras-chave:
Orbital Disease, Plasmablastic Lymphoma, Pott Puffy Tumor, Frontal Sinusitis, Paranasal Sinus Neoplasms
Resumo
Introduction: Pott's Puffy tumor is a subperiosteal abscess that typically arises from frontal osteomyelitis. It can also originate from sinus tumors, with squamous cell carcinoma being the most frequent histological type.
Clinical case: A 72-year-old male presented with orbital and frontal cellulitis. Subsequent CT and MRI scans revealed the presence of a mass in both frontal sinuses, which led to bone erosion and the formation of an abscess in the frontal region, known as Pott's Puffy tumor. The abscess was drained, and a biopsy confirmed a monoclonal plasmablastic lymphoma. Following the completion of an intravenous antibiotic regimen, the patient underwent chemotherapy, which resulted in the remission of the tumor
Discussion: Plasmablastic lymphoma is an unusually aggressive subtype of large B-cell non-Hodgkin's lymphoma that primarily affects mucous membranes, with a predilection for the oral cavity. Due to its low incidence, there is currently no established treatment approach for this condition.
Referências
Sandoval JI, De Jesus O. Pott Puffy Tumor. 2022 Aug 29. In: StatPearls [Internet]. Treasure Island (FL): StatPearls Publishing; 2022 Jan. Available from: https://www.ncbi.nlm.nih.gov/books/NBK560789/
Turner JH, Reh DD. Incidence and survival in patients with sinonasal cancer: a historical analysis of population-based data. Head Neck. 2012 Jun;34(6):877-85. doi: 10.1002/hed.21830.
Youlden DR, Cramb SM, Peters S, Porceddu SV, Moller H, Fritschi L. et al. International comparisons of the incidence and mortality of sinonasal cancer. Cancer Epidemiol. 2013 Dec;37(6):770-9. doi: 10.1016/j.canep.2013.09.014.
Alvarez E, Gunther M, Hernández P, Misad C, Fernandez MA, Donoso-Hofer F. Revisión sistemática del linfoma plasmablástico intraoral en paciente con virus de la inmunodeficiencia humana. A propósito de un caso. Rev Esp Cirug Oral y Maxilofacial. 2018. Apr-Jun; 40(2): 78-83. doi: 10.1016/j.maxilo.2017.04.005
Lopez F, Grau J.J, Medina AJ, Alobid I. Consenso español para el tratamiento de los tumores nasosinusales. Acta Otorrinolaringol Esp. 2017 Jul-Aug;68(4):226-234. doi: 10.1016/j.otorri.2016.07.001.
Albarrán B, Caballero D, Cabezudo M, Cabo de E, Cidoncha B, Diaz FJ et al. Guía de Linfomas. [Internet]. Madrid: Asociación de Hematología y Hemoterapia Castellano-Leonesa; 2017; 138 p. Available from: https://www.sehh.es/publicaciones/guias-y-documentos/122408-guia-de-linfomas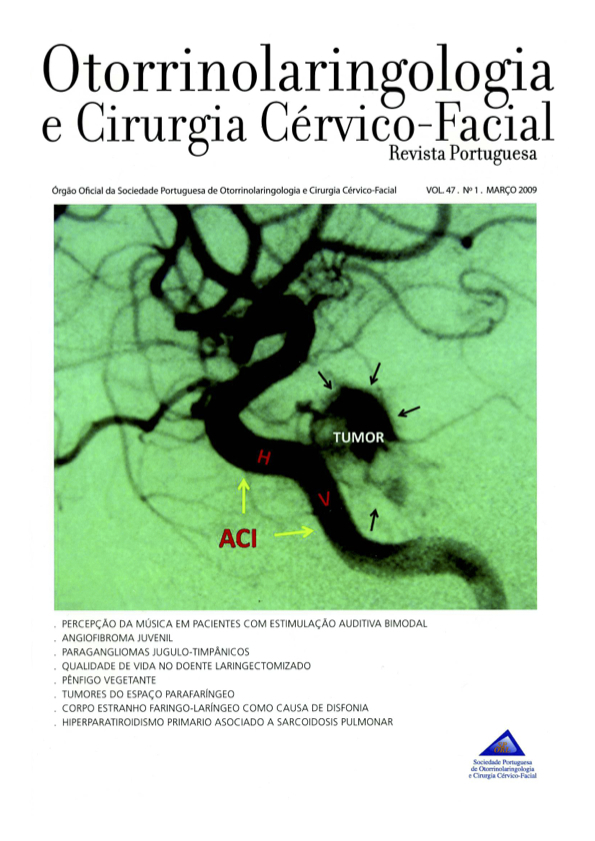 Downloads
Como Citar
da Costa, L. F. I., Acevedo Ortiz, L., Ruiz Giner, A., & Galindo Ortego, X. F. (2023). Pott's puffy tumor and orbital abscess - Unusual cause. Revista Portuguesa De Otorrinolaringologia-Cirurgia De Cabeça E Pescoço, 61(3), 327–330. https://doi.org/10.34631/sporl.2069
Licença
Direitos de Autor (c) 2023 Revista Portuguesa de Otorrinolaringologia-Cirurgia de Cabeça e Pescoço
Este trabalho encontra-se publicado com a Licença Internacional Creative Commons Atribuição-CompartilhaIgual 4.0.