Tumores malignos nasossinusais: Revisão retrospetiva da experiência de um centro terciário
Palavras-chave:
neoplasias malignas, cavidade nasal, seios perinasais
Resumo
Objetivos: Caracterizar a demografia, apresentação, tipos histológicos, tratamento e sobrevida de doentes com tumores malignos nasossinusais diagnosticados num centro hospitalar terciário em Portugal.
Desenho do estudo: Estudo retrospetivo.
Materiais e métodos: Revisão de registos clínicos de janeiro de 2012 a dezembro de 2021.
Resultados: Foram incluídos 19 pacientes, com predomínio do género masculino (57,9%) e uma idade média ao diagnóstico de 66,7 ± 9,8 anos. Os sintomas de apresentação mais comuns foram a obstrução nasal e a epistáxis (47,4%). O carcinoma pavimentocelular foi o subtipo histológico mais frequente (21,1%). Houve um predomínio do tratamento cirúrgico primário comparativamente ao tratamento não cirúrgico (84,2% VS 15,8%). Nove doentes foram submetidos a uma abordagem externa, enquanto em 7 a abordagem foi endoscópica endonasal. O tempo médio de seguimento dos doentes foi de 26,9 ± 20,6 meses. A sobrevida global aos 5 anos foi de 53,5% e a sobrevida livre de doença foi de 62,8%.
Conclusões: Neste estudo o prognóstico foi dependente do estadio da doença e da modalidade terapêutica, e, a abordagem endoscópica endonasal foi segura e eficaz em doentes devidamente selecionados.
Referências
Rinaldo A, Ferlito A, Shaha AR, Wei WI. Is Elective Neck Treatment Indicated in Patients with Squamous Cell Carcinoma of the Maxillary Sinus?. Acta Otolaryngol. 2002 Jun;122(4):443-7. doi: 10.1080/00016480260000175.
Porceddu S, Martin J, Shanker G, Weih L, Russell C, Rischin D. et al. Paranasal sinus tumors: Peter MacCallum Cancer Institute experience. Head Neck. 2004 Apr;26(4):322-30. doi: 10.1002/hed.10388.
Harvey RJ, Dalgorf DM. Chapter 10: sinonasal malignancies. Am J Rhinol Allergy. 2013 May-Jun;27 Suppl 1:S35-8. doi: 10.2500/ajra.2013.27.3894.
Gras Cabrerizo JR, Orús Dotú C, Montserrat Gili JR, Fabra Llopis JM, León Vintro X, De Juan Beltrán J. Análisis epidemiológico de 72 carcinomas de fosas y senos paranasales. Acta Otorrinolaringol Esp. 2006 Oct;57(8):359-63. doi: 10.1016/s0001-6519(06)78728-3.
Su SY, Kupferman ME, DeMonte F, Levine NB, Raza SM, Hanna EY. Endoscopic resection of sinonasal cancers. Curr Oncol Rep. 2014 Feb;16(2):369. doi: 10.1007/s11912-013-0369-6.
Maghami E, Kraus DH. Cancer of the nasal cavity and paranasal sinuses. Expert Rev Anticancer Ther. 2004 Jun;4(3):411-24. doi: 10.1586/14737140.4.3.411.
Dutta R, Dubal PM, Svider PF, Liu JK, Baredes S, Eloy JA. Sinonasal malignancies: a population-based analysis of site-specific incidence and survival. Laryngoscope. 2015 Nov;125(11):2491-7. doi: 10.1002/lary.25465.
Gras Cabrerizo JR, Sarandeses García A, Montserrat I Gili JR, Orús Dotú C. Revisión de los carcinomas de senos paranasales. Acta Otorrinolaringol Esp. 2007 Jun-Jul;58(6):266-75.
Seethala RR, Bullock MJ, Carlson DL, Ferris RL, Harrison LB, Mchugh JB. et al. Nasal cavity and paranasal sinuses. 8th ed. AJCC Cancer Staging Manual; 2017. 137–47.
Tumours of the nasal cavity, paranasal sinuses and skull base. In: El-Naggar AK, Chan JKC, Grandis JR, Takata T, Slootweg PJ, editors. WHO Classification of Head and Neck Tumours. 4th ed; 2017. p. 11–60.
Bracigliano A, Tatangelo F, Perri F, Di Lorenzo G, Tafuto R, Ottaiano A. et al. Malignant sinonasal tumors: Update on histological and clinical management. Curr Oncol. 2021 Jul 1;28(4):2420-2438. doi: 10.3390/curroncol28040222.
Bossi P, Farina D, Gatta G, Lombardi D, Nicolai P, Orlandi E. Paranasal sinus cancer. Crit Rev Oncol Hematol. 2016 Feb;98:45-61. doi: 10.1016/j.critrevonc.2015.09.009.
Mensi C, Consonni D, Sieno C, De Matteis S, Riboldi L, Bertazzi PA. Sinonasal cancer and occupational exposure in a population-based registry. Int J Otolaryngol. 2013;2013:672621. doi: 10.1155/2013/672621.
Hoffman HT, Karnell LH, Funk GF, Robinson RA, Menck HR. The national cancer data base report on cancer of the head and neck. Arch Otolaryngol Head Neck Surg. 1998 Sep;124(9):951-62. doi: 10.1001/archotol.124.9.951.
Harbo G, Grau C, Bundgaard T, Overgaard M, Elbrond O, Sogaard H. et al. Cancer of the nasal cavity and paranasal sinuses. A clinico-pathological study of 277 patients. Acta Oncol. 1997;36(1):45-50. doi: 10.3109/02841869709100731.
Khademi B, Moradi A, Hoseini S, Mohammadianpanah M. Malignant neoplasms of the sinonasal tract: report of 71 patients and literature review and analysis. Oral Maxillofac Surg. 2009 Dec;13(4):191-9. doi: 10.1007/s10006-009-0170-8.
Koivunen P, Makitie AA, Back L, Pukkila M, Laranne J, Kinnunen I. et al. A national series of 244 sinonasal cancers in Finland in 1990-2004. Eur Arch Otorhinolaryngol. 2012 Feb;269(2):615-21. doi: 10.1007/s00405-011-1615-x.
Danesh-Sani SA, Sarafraz A, Chamani M, Derakhshandeh H.Paranasal sinuses malignancies: a 12-year review of clinical characteristics. Med Oral Patol Oral Cir Bucal. 2016 Sep 1;21(5):e626-30. doi: 10.4317/medoral.21170.
Castelhano LG, Correia FA, Raposo DF, Campos AH, Melo MR, Pereira SA. et al. Malignant tumors of the nose and paranasal sinuses: a retrospective review of a portuguese cancer center's experience. Head and Neck Tumours. 2021;11(3):10-7. doi 10.17650/2222-1468-2021-11-3-10-17.
Bhattacharyya N. Cancer of the nasal cavity survival and factors influencing prognosis. Arch Otolaryngol Head Neck Surg. 2002 Sep;128(9):1079-83. doi: 10.1001/archotol.128.9.1079.
Suh JD, Ramakrishnan VR, Chi JJ, Palmer JN, Chiu AG. Outcomes and complications of endoscopic approaches for malignancies of the paranasal sinuses and anterior skull base. Ann Otol Rhinol Laryngol. 2013 Jan;122(1):54-9. doi: 10.1177/000348941312200110.
Mody MD, Saba NF. Multimodal therapy for sinonasal malignancies: updates and review of current treatment. Curr Treat Options Oncol. 2020 Jan 16;21(1):4. doi: 10.1007/s11864-019-0696-4.
Castelnuovo P, Battaglia P, Turri-Zanoni M, Tomei G, Locatelli D, Bignami M. et al. Endoscopic endonasal surgery for malignancies of the anterior cranial base. World Neurosurg. 2014 Dec;82(6 Suppl):S22-31. doi: 10.1016/j.wneu.2014.07.021.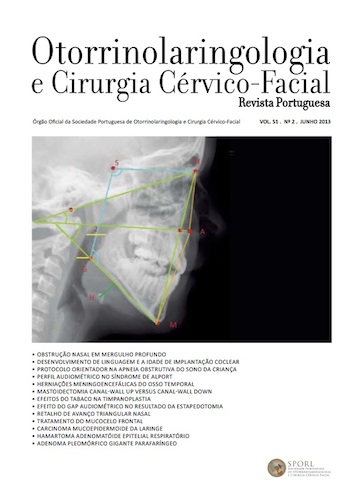 Downloads
Como Citar
Gani, K., Colaço, T., Castelhano, L., Correia, F., Gilberto, N., dos Reis, L. R., & Escada, P. (2023). Tumores malignos nasossinusais: Revisão retrospetiva da experiência de um centro terciário. Revista Portuguesa De Otorrinolaringologia-Cirurgia De Cabeça E Pescoço, 61(2), 187–195. https://doi.org/10.34631/sporl.2030
Licença
Direitos de Autor (c) 2023 Revista Portuguesa de Otorrinolaringologia-Cirurgia de Cabeça e Pescoço
Este trabalho encontra-se publicado com a Licença Internacional Creative Commons Atribuição-CompartilhaIgual 4.0.