Epiglotite em idade adulta: Estudo retrospetivo num centro terciário
Palavras-chave:
Epiglotite, Adulto, Abcesso epiglótico, Traqueostomia
Resumo
A epiglotite é um processo inflamatório agudo da região supraglótica, potencialmente fatal pelo risco de obstrução da via aérea. O objetivo deste trabalho é caracterizar a população adulta com epiglotite e identificar fatores preditores de complicações. Realizou-se um estudo retrospetivo que incluiu os adultos admitidos com epiglotite, num hospital terciário, entre 2017 e 2022.
Foram definidos outcomes: necessidade de via aérea avançada (VAA); abcesso cervical e/ou epiglótico; drenagem cirúrgica. Foi adoptado o MEWS Score para determinar o estado clínico do doente à admissão. Foram incluídos 51 adultos e registaram- se 17 casos de VAA, 25 de abcesso e 7 drenagens cirúrgicas.
A dispneia foi o único sintoma com correlação positiva com todos os outcomes (p<0.05). A duração da sintomatologia, o score MEWS e a presença cumulativa de comorbilidades são possíveis fatores preditores de necessidade de via aérea avançada (p<0.001) e a sua presença deve exigir um maior grau de suspeição para complicações.
Referências
- Carey MJ. Epiglottitis in Adults. Am J Emerg Med. 1996 Jul;14(4):421-4. doi: 10.1016/S0735-6757(96)90065-0.
- Sideris A, Holmes TR, Cumming B, Havas T. A systematic review and meta-analysis of predictors of airway intervention in adult epiglottitis. Laryngoscope. 2020 Feb;130(2):465-473. doi: 10.1002/lary.28076.
- Bridwell RE, Koyfman A, Long B. High risk and low prevalence diseases: adult epiglottitis. Am J Emerg Med. 2022 Jul;57:14-20. doi: 10.1016/j.ajem.2022.04.018.
- Pineau PM, Gautier J, Pineau A, Emam N, Laccourreye L, Boucher S. Intubation decision criteria in adult epiglottitis. Eur Ann Otorhinolaryngol Head Neck Dis. 2021 Oct;138(5):329-332. doi: 10.1016/j.anorl.2020.12.001.
- Min KY, Kwon WY, Suh GJ, Kim KS, Kim JS, Park MJ. Clinical features of acute epiglottitis in adults in the emergency department. J Korean Soc Emerg Med. [Internet] 2016; 27(1):126-133. Available from: https://www.jksem.org/upload/pdf/jksem-27-1-126.pdf
- Guardiani E, Bliss M, Harley E. Supraglottitis in the era following widespread immunization against Haemophilus influenzae type B: evolving principles in diagnosis and management. Laryngoscope. 2010 Nov;120(11):2183-8. doi: 10.1002/lary.21083.
- Subbe CP, Kruger M, Rutherford P, Gemmel L. Validation of a modified early warning score in medical admissions. QJM. 2001 Oct;94(10):521-6. doi: 10.1093/qjmed/94.10.521.
- Lam TS, Mak PSK, Siu WS, Lam MY, Cheung TF, Rainer TH. Validation of a Modified Early Warning Score (MEWS) in emergency department observation ward patients. Honk Kong J Emerg Med. [Internet] 2006;13(1):24-30. Available from: https://doi.org/10.1177/102490790601300102.
- Shapiro J, Eavey RD. Baker AS. Adult supraglottitis. A prospective analysis. JAMA. 1988;259(4):563-567. doi:10.1001/jama.1988.03720040055027
- Takala AK, Peltola H, Eskola J. Disappearance of epiglottitis during large-scale vaccination with Hemophilus influenzae type B conjugate vaccine among children in Finland. Laryngoscope. 1994 Jun;104(6 Pt 1):731-5. doi: 10.1288/00005537-199406000-00013.
- Hugosson S, Olcén P, Ekedahl C. Acute epiglottitis – aetiology, epidemiology and outcome in a population before large-scale Hemophilus influenzae type B vaccination. Clin Otolaryngol Allied Sci. 1994 Oct;19(5):441-5. doi: 10.1111/j.1365-2273.1994.tb01265.x.
- Lam PK, Choi YF, Wong TW, Lau CC. Adult acute epiglottitis: Predictors for airway intervention and Intensive Care Unit admission. Hong Kong Journal of Emergency Medicine [Internet] 2009; 16(4): 198-207. Available from: https://doi.org/10.1177/102490790901600402
- Shapira Galitz Y, Shoffel-Havakuk H, Cohen O, Halperin D, Lahav Y. Adult acute supraglottitis: analysis of 358 patients for predictors of airway intervention. Laryngoscope. 2017 Sep;127(9):2106-2112. doi: 10.1002/lary.26609.
- Gietzen L, Kury D. Epiglottitis. JAAPA. 2018 Aug;31(8):53. doi: 10.1097/01.JAA.0000534985.92038.83.
- Tapiovaara LK, Aro KLS, Back LJJ, Koskinen AIM. Comparison of intubation and tracheotomy in adult patients with acute epiglottitis or supraglottitis. Eur Arch Otorhinolaryngol. 2019 Nov;276(11):3173-3177. doi: 10.1007/s00405-019-05624-0.
- Fujiwara T, Miyata T, Tokumasu H, Gemba H, Fukuoka T. Diagnostic accuracy of radiographs for detecting supraglottitis: a systematic review and meta‐analysis. Acute Med Surg. 2016 Nov 10;4(2):190-197. doi: 10.1002/ams2.256.
- Smith MM, Mukherji SK, Thompson JE, Castillo M. CT in Adult Supraglottitis. AJNR Am J Neuroradiol. [Internet] 1996 Aug;17(7):1355-8. Available from: https://citeseerx.ist.psu.edu/document?repid=rep1&type=pdf&doi=dc935dade1d1bac4e3506f51fd530407298ed2f8
- Berger G, Landau T, Berger S, Finkelstein Y, Bernheim J, Ophir D. Rising incidence of adult acute epiglottitis and epiglottic abscess. Am J Otolaryngol. 2003 Nov-Dec;24(6):374-83. doi: 10.1016/s0196-0709(03)00083-8.
- Baxter FJ, Dunn GL. Acute epiglottitis in adults. Can J Anaesth. 1988 Jul;35(4):428-35. doi: 10.1007/BF03010869.
- MayoSmith MF, Hirsch PJ, Wodzinski SF, Schiffman FJ. Acute epiglottitis in adults. an eight year experience in the state of Rhode Island. N Engl J Med. 1986 May 1;314(18):1133-9. doi: 10.1056/NEJM198605013141801.
- Hérbert PC, Ducic Y, Boisvert D, Lamothe A. Adult epiglottitis in a Canadian setting. Laryngoscope. 1998 Jan;108(1 Pt 1):64-9. doi: 10.1097/00005537-199801000-00012.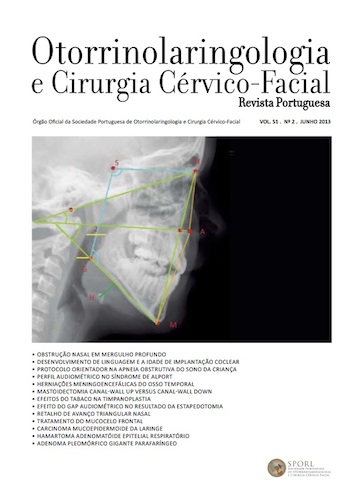 Downloads
Como Citar
Peça, R., Caetano, M., Santos, A. R., Correia-Rodrigues, P., & Luís, L. (2023). Epiglotite em idade adulta: Estudo retrospetivo num centro terciário. Revista Portuguesa De Otorrinolaringologia-Cirurgia De Cabeça E Pescoço, 61(2), 205–212. https://doi.org/10.34631/sporl.2024
Licença
Direitos de Autor (c) 2023 Revista Portuguesa de Otorrinolaringologia-Cirurgia de Cabeça e Pescoço
Este trabalho encontra-se publicado com a Licença Internacional Creative Commons Atribuição-CompartilhaIgual 4.0.