Reparação da perfuração septal: Estratégia cirúrgica
Teresa Oliveira Matos

Interna de Formação Específica do Serviço de ORL II do CHLN, Hospital Pulido Valente, Lisboa

Pedro Ângelo

Interno de Formação Específica do Serviço de ORL II do CHLN, Hospital Pulido Valente, Lisboa

João Subtil

Assistente Hospitalar do Serviço de ORL II do CHLN, Hospital Pulido Valente, Lisboa

Paulo Borges Dinis

Assistente Graduado do Serviço de ORL II do CHLN, Hospital Pulido Valente, Lisboa
Palavras-chave:
Perfuração Septal, Retalhos de Rotação, Endoscopia
Resumo
A perfuração septal é um defeito anatómico do septo nasal em que existe uma solução de continuidade por completa ausência de cartilagem e/ou osso e do seu revestimento mucopericôndrio/ mucoperiósteo suprajacente simultaneamente nas suas duas faces. Uma das causas mais frequentes é a iatrogénica, como complicação de uma cirurgia ao septo nasal e, a sintomatologia associada está em grande parte dependente da sua localização e das dimensões, com uma percentagem importante de casos assintomáticos. Estão descritas na literatura mais de 40 variações técnicas para a reconstrução cirúrgica da integridade do septo nasal, com uma grande variabilidade de sucesso reportado (40-95%), o que reflete a ausência de consenso em relação a estes procedimentos. Os autores discutem as vantagens da utilização de retalhos compostos locais, sob controlo endoscópico endonasal, no encerramento de perfurações septais sintomáticas, ilustrando a sua argumentação com dois casos clínicos.
Downloads
Não existe ainda disponível informação de downloads.
Referências
-Chua DYK, Tan HKK. Repair of nasal septal perforations using auricular conchal cartilage graft in children: report on three cases and literature review. Int J Ped Otorhinolaryngol. 2006; 70: 1219-1224.
-Lanier B, Kai G, Marple B, Wall GM. Pathophysiology and progression of nasal septal perforation. Ann Allerg Asthma Immunol. 2007. 99: 473-48.
-Tasca I, Compadretti GC. Closure of septal perforation via endonasal approach. Otolaryngol Head Neck Surg. 2006; 135: 922-927.
-Oberg D, Akerlund A, Johansson L, Bende M. Prevalence of nasal septal perforation: the Skovde population-based study. Rhinology. 2003; 41: 72-75.
-Watson D, Barkdull G.. Surgical management of septal perforation. Otolaryngol Clin N Am. 2009; 42:483-493.
-André RF, Lohuis PJFM, Vuyk HD. Nasal septum perforation repair using differently designed, bilateral intranasal flaps, with nonopposing suture lines. J Plast Reconst AesthetSurg. 2006; 59: 829-834.
-Diamantopolus II, Jones NS. The investigation of nasal septal perforations and ulcers. J Laryngol Otol. 2001; 115: 541-544.
-Sang-Wook K, Chae-Seo R. Nasal septal perforation repair: predictive factores and systematic review of the literature. Curr Op Otolaryngol. 2012; 20: 1-8.
-Pedroza F, Patrocinio LG, Arevalo O. A Review of 25-year experience of nasal septal perforation repair. Arch Facial Plast Surg. 2007; 9: 12-18.
-Castelnuovo P, Ferreli F. Khodaei I, Palma P. Anterior Ethmoidal Artery Septal Flap for the Management of Septal Perforation. Arch Facial Plast Surg. 2011; 13: 411-414.
-Fairbanks D. Nasal Septal Perforations. Operat Techn Otolaryngol Head Neck Surg. 1991; 2:194-198.
-Pignatari S. Nogueira JF. Stamm AC. Endoscopic "crossover flap" technique for nasal septal perforations. Otolaryngol Head Neck Surg.2010; 142:132-134.
-Sclafani AP. Repair of large nasal septal perforations via the external rhinoplasty approach. Operat Techni Otolaryngol Head Neck Surg. 2011; 12: 20-24.
-Eliachar I. Mastros NP. Improved nasal septal prosthetic button. Otolaryngol Head Neck Surg. 1995; 112:347-349.
-Neumann A, Morales-Minovi C, Schultz-Coulon HJ. Closure of nasal septum perforations by bridge flaps. Acta Otorrinolaringol Esp. 2011; 62:31-39.
-Kazkayasi M, Yalcinozan ET. Uncinate process in the repair of nasoseptal perforation. Aesth Plast Surg. 2011; 35:878-881.
-Mon IJ, Kim SW, Han DH, Kim ST, et al. Predictive factores for the outcome of nasal septal perforation repair. Auris Nasus Larynx. 2011. 38:52-57.
-Giacomini PG, Ferraro S, Girolamo S, Ottaviani F. Large nasal septal perforation repair by closed endoscopically assisted approach. Ann Plas Surg. 2011; 66:633-636.
-Schultz-Coulon HJ. Three-layer repair of nasoseptal defects. Otolaryngol Head Neck Surg. 2005; 132:213-218.
-Teymoortash A, Hoch S, Eivazi B, Werner JA. Experiences with a new surgical technique for closure of large perforations of the nasal septum in 55 patients. Am J Rhinol Allergy. 2011; 25:193-197.
-Teymoortash A, Werner JA. Repair of nasal perforation using a simple unilateral inferior meatal mucosal flap. J Plast Reconstr Aesthet Surg. 2009; 62:1261-1264.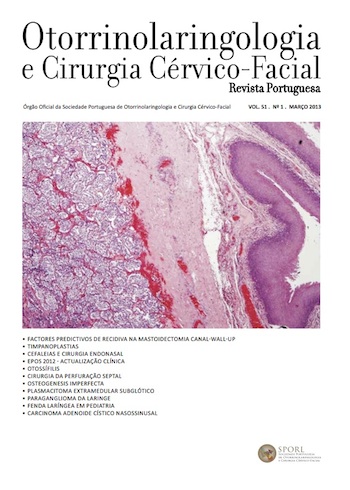 Como Citar
Matos, T. O., Ângelo, P., Subtil, J., & Dinis, P. B. (1). Reparação da perfuração septal: Estratégia cirúrgica. Revista Portuguesa De Otorrinolaringologia E Cirurgia De Cabeça E Pescoço, 51(1), 39-44. https://doi.org/10.34631/sporl.7