Laryngeal leiomyoma: A case report and review of the literature
António Gómez-Torres

Servicio de Otorrinolaringología, Hospital Infanta Luisa, Sevilla, España

Antonio Medinilla Vallejo

Unidad de Gestión Clínica de Otorrinolaringología, Hospital Universitario Virgen del Rocío, Sevilla, España

Alicia Menoyo Bueno

Unidad de Gestión Clínica de Otorrinolaringología, Hospital Universitario Virgen del Rocío, Sevilla, España

Ramón Moreno Luna

Unidad de Gestión Clínica de Otorrinolaringología, Hospital Universitario Virgen del Rocío, Sevilla, España

Joaquín Roberto González Cantón

Servicio de Anatomía Patológica, Hospital Universitario Virgen del Rocío, Sevilla, España
Palavras-chave:
leiomyoma, larynx
Resumo
Leiomyoma is a benign tumour of the smooth muscle that is most typically located in the feminine genitourinary tract. Laryngeal localisation is very uncommon; only 43 cases have been reported in the world literature yet. Surgical resection is the main treatment and recurrences are extremely infrequent. We hereby present a case of laryngeal leiomyoma, its treatment and literature review.

Downloads
Não existe ainda disponível informação de downloads.
Referências
- Hirshoren N, Weinberger JM, Neuman T, Ilan O, et al.. Recurrent vascular leiomyoma of the larynx: clinical and histopathologic characteristics and treatment. Ear Nose Throat J. 2010;89:382-6.
- Morena E, Pérez CA, de la Fuente C, Razquin J, et al.. Leiomiosarcoma laríngeo. Acta Otorrinolaringol Esp 2007;58:445-8.
- Sancho A, Poncela M, Morais D, Martín G, et al.. Leiomioblastoma lingual. Acta Otorrinolaringol Esp 2001;52:70-3.
- Xu Y, Zhou S, Wang S. Vascular leiomyoma of the larynx: a rare entity. Three case reports and literatura review. ORL J Otorhinolaryngol Relat Spec. 2008; 70:264-7.
- Gianluca S, Marini R, Tonoli F, Cristali MP. Leiomyoma of oral cavity: case report and literatura review. Ann Stomatol (Roma) 2011;2:9-12.
- Baden E, Doyle JL, Lederman DA. Leiomyoma of the Oral Cavity: A Light Microscopic and Immunohistochemical Study with Review of the Literature from 1884 to 1992. Oral Oncol Eur J Cancer 1994; 30: 1-7.
- Lan MY, Guo YC, Chu PY, Ho DM, et al.. Pathology quiz case 2: Leiomyosarcoma of the larynx. Arch Otolaryngol Head Neck Surg. 2001;127:1503-5.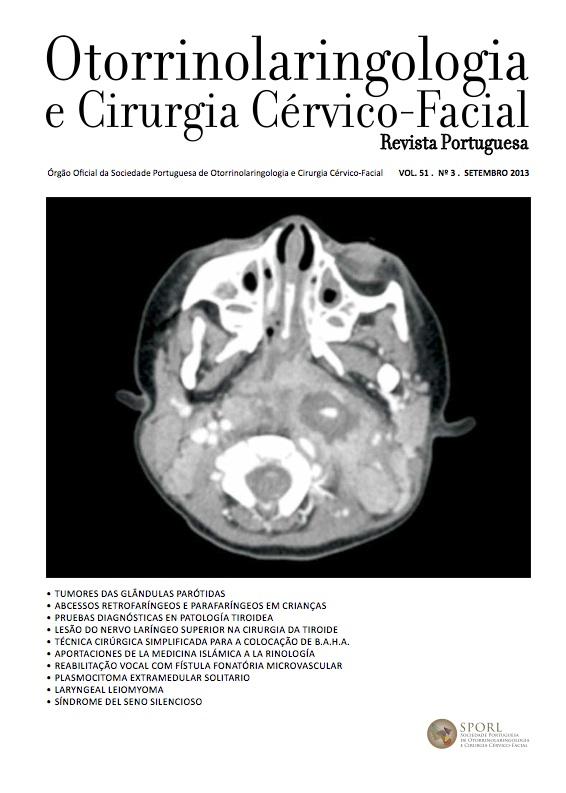 Como Citar
Gómez-Torres, A., Vallejo, A. M., Bueno, A. M., Luna, R. M., & Cantón, J. R. G. (1). Laryngeal leiomyoma: A case report and review of the literature. Revista Portuguesa De Otorrinolaringologia E Cirurgia De Cabeça E Pescoço, 51(3), 199-200. Obtido de https://journalsporl.com/index.php/sporl/article/view/69